Artisan Butchery, Frozen & Chilled, Greek Groceries, Greek Products, Greek Sausages & Meats
Pork Belly with Bone / Πανσέτα Χοιρινή με κόκκαλο 500g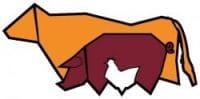 Pork Belly Bone / Πανσέτα Χοιρινή με κόκκαλο 500g
Freshly cut and prepared in Greece. Frozen for your convenience. 
Καταψύχεται φρέσκο την ημέρα κοπής για την ευκολία σας στην Ελλάδα!
Με τα ελληνικά πρότυπα, κατάλληλο για την ελληνική κουζίνα.
Το κρέας όπως το ξέρουμε!
Based on 0 reviews
Only logged in customers who have purchased this product may leave a review.