Welcome to Greek Market, Britain's go-to digital portal for the finest Greek Products. Since 2005, we've been the beacon for authentic Greek Food, Greek Drinks, and other Greek essentials in the UK, extending our services across Europe and beyond.
Why Choose Greek Market for Greek Delicacies?
Authenticity: Our collection is a testament to Greek tradition. Whether you're sipping our robust Greek Coffee or indulging in other Greek delicacies, rest assured, it's sourced directly from Greece's heartland.
Diverse Range: Greek Market's shelves are a mosaic of choices, offering everything from specific Greek ingredients to products from esteemed Greek producers.
Customer-Centric Approach: As the top destination for Greek Food and products, we prioritise quality and affordability, ensuring our customers always come first.
Prompt Delivery: Eager for your Greek Drinks or food? We pledge to deliver your Greek selections swiftly within 24 hours – with utmost care.
Join our community for a fulfilling journey through Greece's myriad flavours and products, all curated by Greek Market – your trusted source for Greek Delicacies.
Our Commitment to the Planet & Community
Environmentally-conscious Delivery: CO2 neutral
Sustainable Packaging: 100% recyclable, largely plastic-free, and FSC® certified
Championing Change: Standing against food waste
The Greek Market Service Promise
Unwavering Professionalism
Reliability in Every Purchase
Flexibility Tailored for You
Open Communication Channels
Upholding Social Responsibility
Best Price Guarantee for all Greek Products
Our Assurance on Greek Products
Strict Quality Standards for Greek Food & More
Partnerships with Trusted Greek Brands
Economies of Scale Benefits
Rigorous Hygiene Protocols
Efficient Transport System for Fresh Greek Delicacies
Robust Supply Chain Mechanics
Your One-Stop Destination for All Things Greek! From Greek Food and Greek Drinks to beauty essentials and cherished literature, Greek Market ensures a genuine Greek experience right at your doorstep.
Join our community and embark on a journey through Greece's treasures and discover the heart of Greek heritage, all from the comfort of your home. Welcome to GreekMarket.co.uk!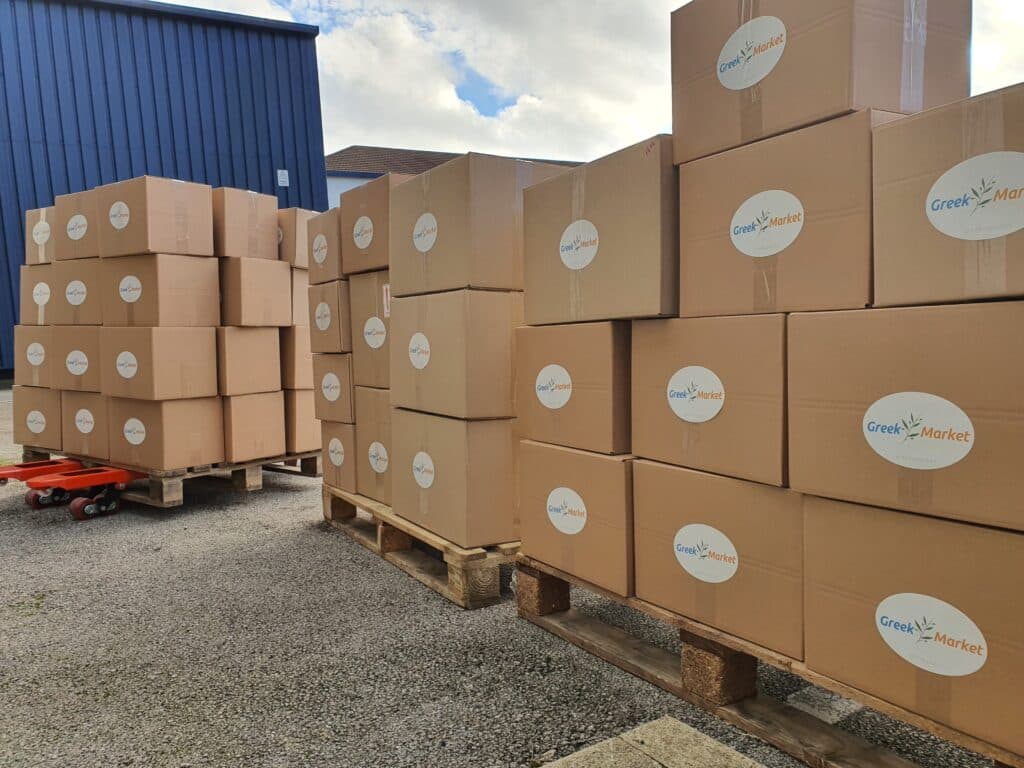 Environment

Customer

Products

CO2 neutral delivery

100% recyclable packaging material

FSC® environmentally responsible packaging

more than 97% of our packaging is plastic-free

100% polystyrene-foam free packaging

fight food waste initiative supporter

Professionalism

Reliability

Flexibility & Convenience

Excellent Communication

Social Responsibility

Lowest Price Guarantee

High Quality Standards

Reputable & Trusted Brands

Economies of Scale

Hygiene Handling & Storage

Fast & Efficient Transport

Professional Supply Chains
---
Greek Market is your one-stop shop for
Share our passion for Greek Products & Customer Service? Join our team and be part of a great journey.
---