Add
£

46.03
to cart for free UK delivery!
Artisan Butchery, Frozen & Chilled, Greek Groceries, Greek Products, Greek Sausages & Meats
Pork Souvlaki (5x100g) / Σουβλάκι Χοιρινό Τετράγωνο 500g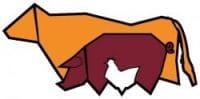 Found this product at a lower price?
Pork Souvlaki Marinated / Σουβλάκι Χοιρινό Τετράγωνο (Μαριναρισμένο) 500g
Το γνωστό σε όλους μας παραδοσιακό σουβλάκι από 100% εξαιρετική πανσέτα, επεξεργασμένο με το δικό μας μοναδικό τρόπο για να παραμένει πάντα ζουμερό και νόστιμο από την πρώτη μέχρι την τελευταία μπουκιά.
Freshly cut and prepared in Greece. Frozen for your convenience. 
Καταψύχεται φρέσκο την ημέρα κοπής για την ευκολία σας στην Ελλάδα!
Με τα ελληνικά πρότυπα, κατάλληλο για την ελληνική κουζίνα.
Το κρέας όπως το ξέρουμε!
Only logged in customers who have purchased this product may write a review.