Loux still Orange juice / Πορτοκαλάδα Μπλε (5+1 Free) 330ml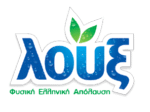 £4.92
ΛΟΥΞ ΠΟΡΤΟΚΑΛΑΔΑ ΜΠΛΕ 330ml
In stock
Found this product at a lower price?
Description
Loux Portokalada Blue – The Greek (non-carbonated) answer to Orangina.
Πορτοκαλάδα όπως…Ελλάδα! Φυσικός χυμός από 100% ελληνικά πορτοκάλια, εξαιρετικής ποιότητας νερό πηγής Κεφαλόβρυσου, είναι η κλασική, αλάνθαστη συνταγή της πορτοκαλάδας λουξ. Φυσική ελληνική απόλαυση, χωρίς προσθήκη χρωστικών, μαγεύει όποιον τη δοκιμάζει και είναι σήμερα η αγαπημένη πορτοκαλάδα όλης της Ελλάδας.
Questions and answers of the customers
There are no questions yet. Be the first to ask a question about this product.
Only registered users are eligible to enter questions