Artisan Butchery, Frozen & Chilled, Greek Groceries, Greek Products, Greek Sausages, Greek Sausages & Meats
Greek Pork Sausage with Leek / Λουκάνικο Χοιρινό Πρασάτο 300g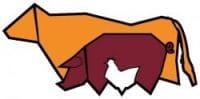 Found this product at a lower price?
Greek Pork Sausage with Leek (Loukaniko)
Greek sausages also available:
Λουκάνικο Χοιρινό Πρασάτο 300g
Χωριάτικο παραδοσιακό λουκάνικο με φανατικούς οπαδούς. Παράγεται από τρυφερά κομμάτια χοιρινού κρέατος με ποικιλία μπαχαρικών και φρέσκο πράσο. Γεμίζεται σε φυσικό χοιρινό έντερο στα 100gr. Ψήνεται και καπνίζεται σε φούρνο με ξύλο οξιάς για μοναδική γεύση.
Freshly cut and prepared in Greece. Frozen for your convenience. 
Καταψύχεται φρέσκο την ημέρα κοπής για την ευκολία σας στην Ελλάδα!
Με τα ελληνικά πρότυπα, κατάλληλο για την ελληνική κουζίνα.
Το κρέας όπως το ξέρουμε!
Only logged in customers who have purchased this product may write a review.