Misko Greek Makaroni / Μακαρόνι No3 500g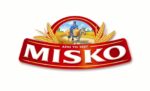 £1.40
MISKO ΜΑΚΑΡΟΝΙΑ No 3 ΤΡΥΠΗΤΟ 500 GR
In stock
Found this product at a lower price?
Description
Misko Greek Makaroni No3 Energy: kJ 1487 Protein: g 12,0 Carbohydrates: g 72,2 Fat: g 1,5
Είναι µακαρόνια µε τρύπα, πιο λεπτά από το Νο2.
Τα Νο3 χρησιµοποιούνται για Παστίτσιο ή µε σάλτσα, ή ακόµη και σε σαλάτα.
Προσφέρουν πρωτότυπη εµφάνιση στο πιάτο, µε όποια συνταγή και αν χρησιµοποιηθούν.
Διατροφικές Πληροφορίες Ανά 100 Γρ.: Ενέργεια: Kcal 1487 Πρωτείνες: g 12,0 Υδατάνθρακες: g 72,2 Λιπαρά: g 1,5
Questions and answers of the customers
There are no questions yet. Be the first to ask a question about this product.
Only registered users are eligible to enter questions